Membership:
The membership year runs from April 1 to March 31 annually.
Membership fees are $50.00 per person.
Fees may be paid at the Centre on Monday mornings, or can be paid through your online banking through Affinity Credit Union, using the bill payment system. Go to add a payee and search for Kenaston Seniors Inc.
We welcome new faces and offer membership to anyone who is 60 years of age and over and we would love to hear your ideas for new activities.
Regular Activities:
On Mondays the Centre is open for a 6am early morning coffee, 9am coffee and 3pm coffee break. Everyone is welcome!
Regular monthly meeting will be held on the third Tuesday of the month beginning at 3:00 pm. (based on Covid restrictions)
Other Activities:
We have a full compliment of exercise equipment including a treadmill, exercise bike, weight machine and free-standing weights. Our members are welcome to use the equipment.
Our Pool table is busy throughout the winter and a shuffleboard table is available.
Several of the ladies have held a weekly exercise class throughout the winter.
There is often a puzzle on the board and often game and card afternoons or evenings are planned.
A new computerized quilting machine is available for members to use as well as a sewing machine.
We are happy to hold a movie day, or plan musical entertainment and occasionally hold a pot luck supper.
Several of our members make time to host craft activities with local school age children.
Charitable Status:
Kenaston Seniors Inc is listed as a registered charity with the Canada Revenue Agency and can issue charitable receipt for donations.
Our club has helped with the annual Remembrance Day service, issuing receipts for donations.
We also accept charitable donations for the Kenaston Christmas Grocery Cards in order to provide help wherever it is needed within the community.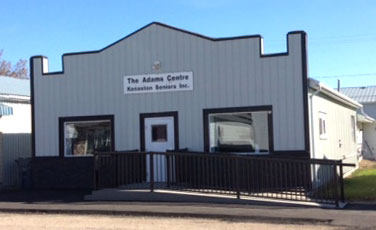 Rentals:
Contact Jeanette regarding a booking.
Officers:
President: Jeanette Holder (306-252-2081)
1st Vice: Idelle Westman
2nd Vice: Rosemary O'Handley
Secretary: Theresa Owen
Treasurer: Susan Anholt
Contact Information:
Kenaston Seniors Inc
PO Box 361, Kenaston SK  S0G 2N0
Email: kenastonseniorsinc@gmail.com
---