Fire Department
Call 911
Fire Chief and EMO Co-ordinator: Brad Owen
Deputies: Dallas Lowdermilk and Jason Zdunich
See: Mayor's Proclamation Oct. 2014 – Fire Prevention Week
Kenaston Rural Fire District is in need of additional volunteers.
Currently, there are 20 members in total on the roster. There is a Fire Chief, Deputy Chief, 3 Captains, Training Officer and the remaining volunteer firefighters.
In addition to fire fighting operations, the department also serves as the local landing team for the STARS Air Ambulance and as a rescue team at motor vehicle collisions within the fire district boundaries. The level of involvement as a volunteer firefighter is up to each fire department member. Some members choose to respond only to fires and others respond to fires as well as highway rescue incidents.
Depending on work schedules that take many out of town, all members are not available to take emergency calls. There is a need for additional daytime members to maintain sufficient fire fighting capabilities. We can use both male and female fire fighters.
The department meets each Tuesday night at 7:30 p.m. at the Fire Hall. To join with the Fire Department, come to one of the meetings or contact one of the officers.
For All Emergency Responses Call – 911
FIRST MEDICAL RESPONDERS – Our Local Heroes
In a medical crisis who do we call – 911 of course. This call goes to the MD Dispatch Centre in Saskatoon, who then call the Heartland Health Region Davidson Ambulance and the Kenaston First Responders.
Our local First Medical Responders are usually the first medical personnel to arrive at the emergency scene. A critical part of their training is the initial on-scene assessment. When first arriving at the scene it is critical that the First Medical Responder can assess the situation and make the appropriate decisions. It could be a matter of life or death.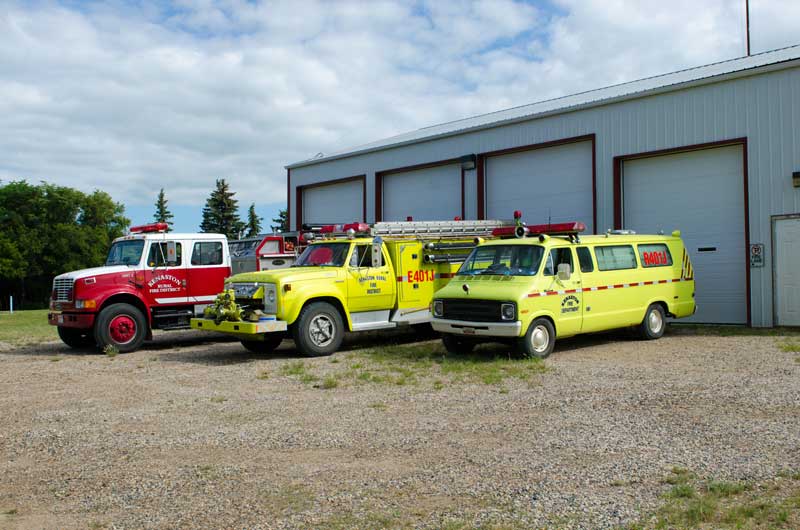 Currently there are two First Medical Responders in the Kenaston District. If you are interested in becoming a First Medical Responder you can contact:
Ken Remmen 306-252-2767
Brad Owen 306-252-2129
It is not simply a matter of volunteering. First a rigorous set of courses are required including CPR training, Assessments, Oxygen Therapy and Spinal Immobilization. The First Medical Responders also meet regularly with the Heartland Health Region EMS for in-service training and to practice their skills.